There are a lot of ways to get rid of that unwanted tree stump, but none so efficient and thorough as renting a stump grinder. Stump grinders provide a simple, less intrusive solution than traditional stump removal. Whether you've just cut down an old tree or are finally going to deal with the big tree stump in your yard, the use of a stump grinder can enhance the curb appeal of your property without leaving a large mess behind.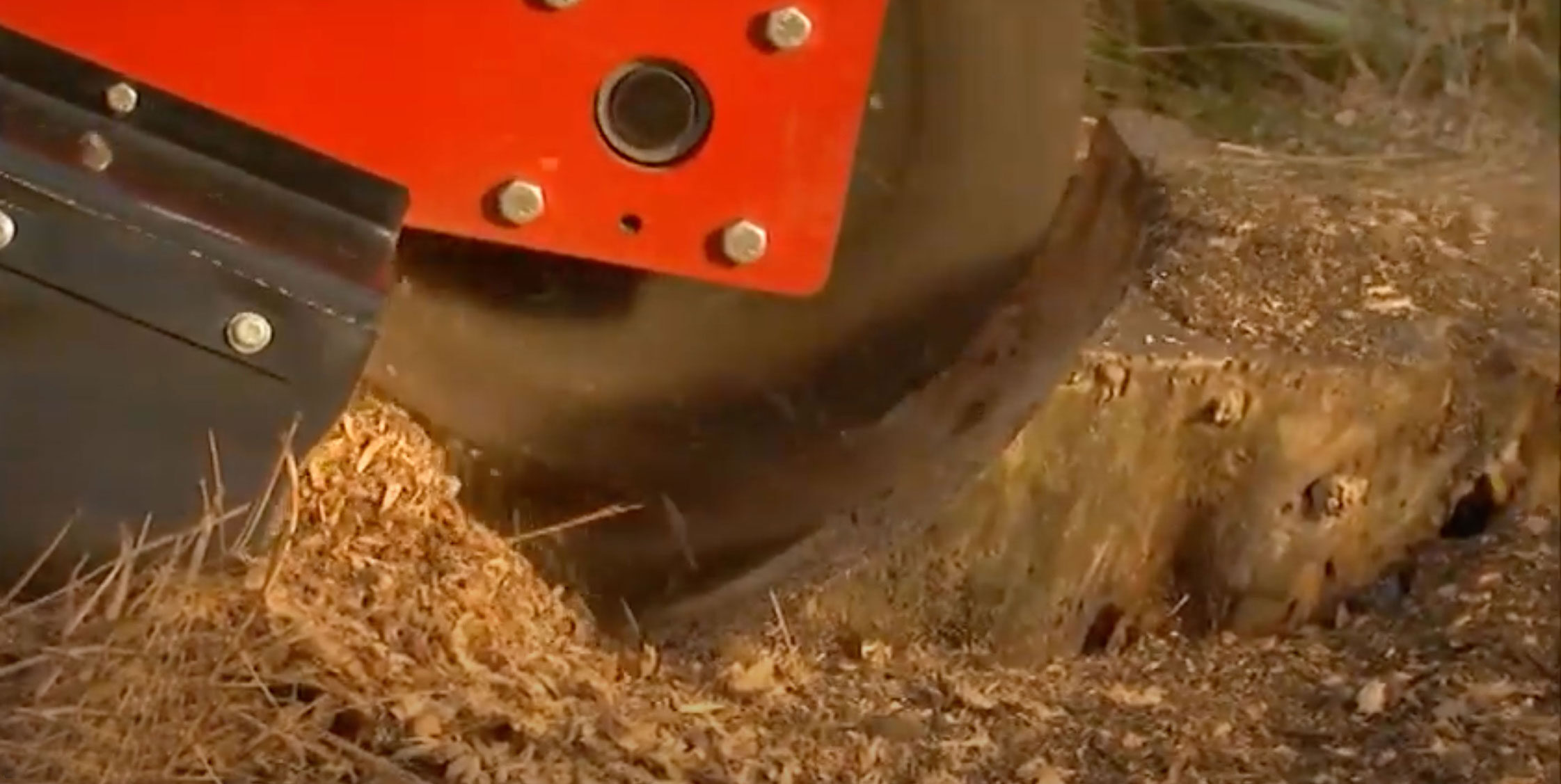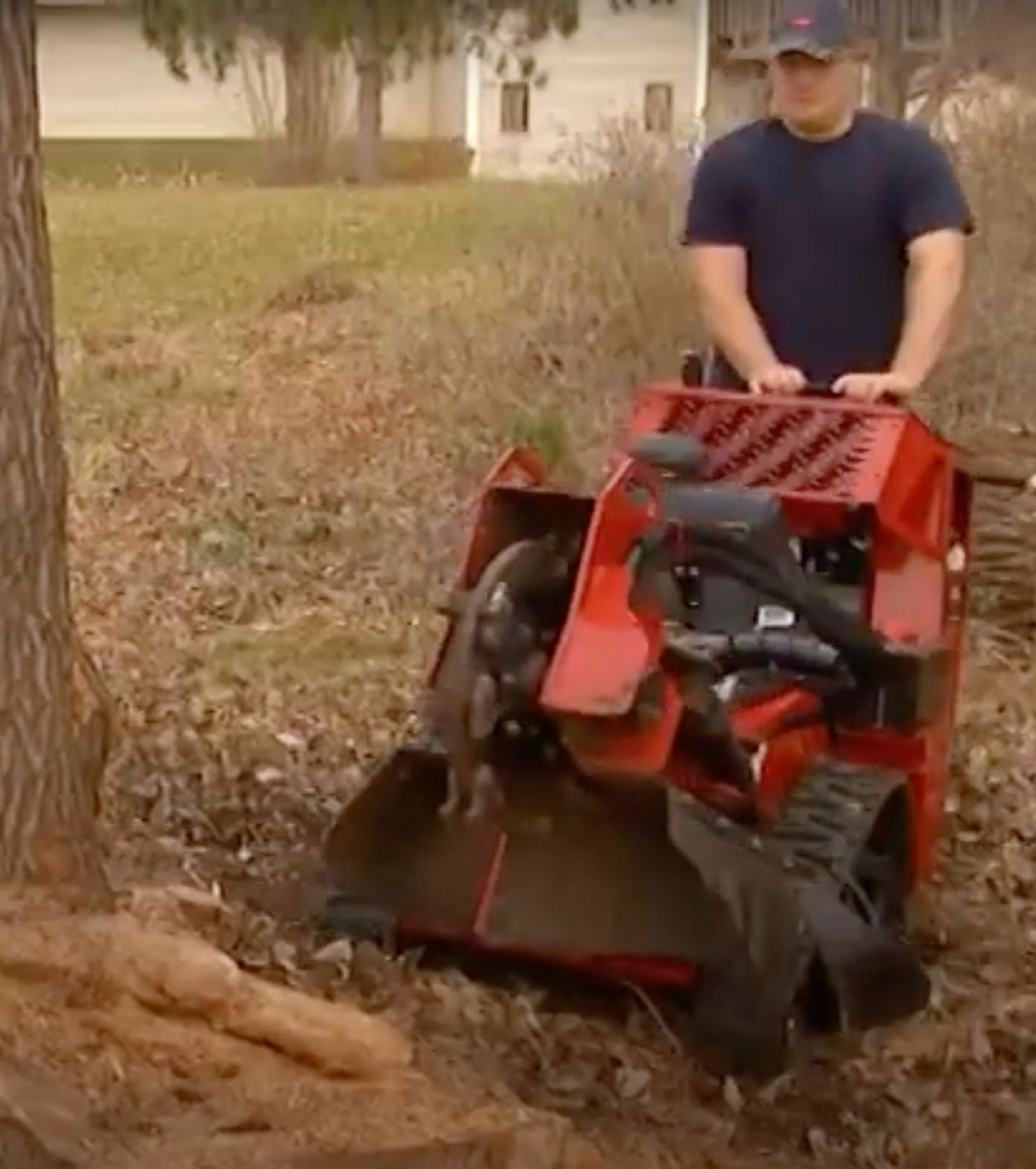 Our hydraulically operated Toro and Vermeer Stump Grinders take on the tough work by using carbide teeth affixed to a rotating disc to grind away at the stump until it becomes a pile of small wood chips that are easy to clear away and dispose of. Whereas traditional stump removal leaves you with a large hole in your front lawn, a stump grinder will create a flat, even surface that can be filled over with soil and grass seed.
Benefits of Stump Grinding
Leaving a large stump sitting in your yard can post a safety risk to you, your family, and any equipment that you use to maintain your lawn. Grinding the stump away will not only enhance the curb appeal of your home but also ensure that there are no tripping hazards or rough areas for your lawn equipment. Once you grind it and remove the chips, you'll gain the additional lawn space and won't have to plan your landscaping around an unsightly obstruction that detracts from the value of your home. In addition, you'll be preventing insects from making their homes inside the stump and causing larger problems for your lawn care routine.
When compared to traditional stump removal, stump grinding is the preferred option for many who don't want to tear up their lawn. Our Toro and Vermeer Stump Grinders have rubber tracks that provide excellent traction on uneven terrain but are also designed to make less of a mess of your existing grass. This makes stump grinding pain-free and enables you to proceed with your landscaping at a much faster pace.
Operating a Stump Grinder
Our stump grinders are extremely user friendly and can be controlled accurately as walk-behind machines. Once driven into position, the hydraulic controls enable the spinning wheel to bite down on the stump and grind it down in sections. There are guards in place to prevent chips of wood from flying sporadically and keep the mess to a minimum. The controls will allow you to move the wheel up and down to eat away at the stump and reposition the grinder to access the full surface of the stump.
If this is your first time using a Stump Grinder, Matt's 3 minute demo video will give you an overview of what to expect: at the time of your rental, our team will also train you on its use.
Don't be Stumped! Get Rid of that Unwanted Tree Stump Today
Contact Bill's Equipment & Supply and reserve a Toro or Vermeer Stump Grinder today. Our family owned and operated business has become a trusted source for stump grinders and many other tools to make life easier and cut down on labor time. We've been providing Colorado Springs with quality equipment sales and rental services for over 65 years and we're committed to helping you with our knowledge and expertise. Contact us today to reserve a stump grinder for your next project.