Dump trailers are useful for hauling almost anything that you don't want to unload by hand or with a shovel and wheel barrow. Anything from pieces of broken concrete or demolition debris, to landscaping materials like decorative rock or mulch, there is no mistaking the ease and usefulness of a dump trailer.
Dump trailers allow you to move large volume loads and haul them to or from your site without the impact and expense of a dump truck or other all-in-one vehicle.  Simply attach the dump trailer to your pickup or SUV and you are on your way. One touch operation allows you to raise and lower the dump bed. You also have the option of a variety of different sizes, and ramps for loading equipment.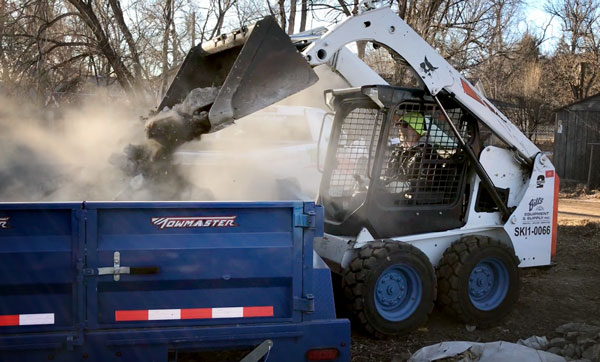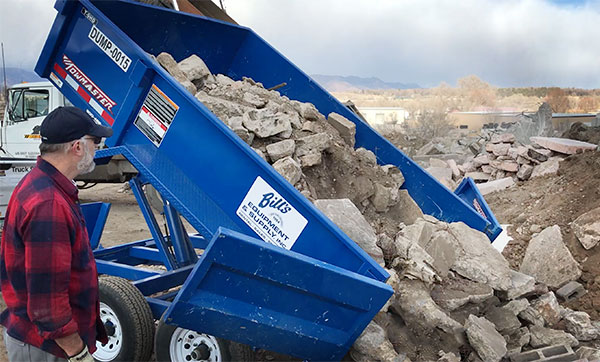 Dump Trailer Options

Our trailers are available in 3 and 5 ton load limits:
Double Axle Dump Trailer, 5' x 10' – 6,000 lb Capacity
Double Axle Dump Trailer, 80" x 14' – 10,000 lb Capacity
Both trailers attach to 2 5/16″ inch ball hitches. The 3 ton capacity trailer requires at least a 1/2 ton truck/SUV to pull and has hydraulic surge brakes. The 5 ton capacity trailer requires at least a 3/4 ton truck or SUV that is equipped with a brake controller for electric brakes.
How to Operate a Dump Trailer
Using a dump trailer is fairly simple and, at the time of your rental, our team will train you on its use. If this is your first time using a dump trailer, Matt's 7 minute demo video will give you an overview of what to expect: